There are endless things that you can try on your stand up paddle board, other than just standing up and paddling! Your board and paddle are your ticket to adventure and new experiences. These are 5 of our favourites, and are all things you need to try!
Share a Sunset
Watching the giant flaming orb that is the sun drop below a watery horizon is something that every stand up paddle boarder needs to experience. Whether you are going out just before sunset to watch it, or it is at the end of a long paddle, it is a must see. On a calm night the sun will light up the water and sky in a way that can only be appreciated from a SUP. You can do this on any SUP board, but a board with a full length deck pad lets you really kick back!
Pro Tip – Usually we suggest being back to shore 30 minutes before sunset, but in this case, we will make an exception. Pick a spot that is a short paddle back to land, and once the actually sets, head back!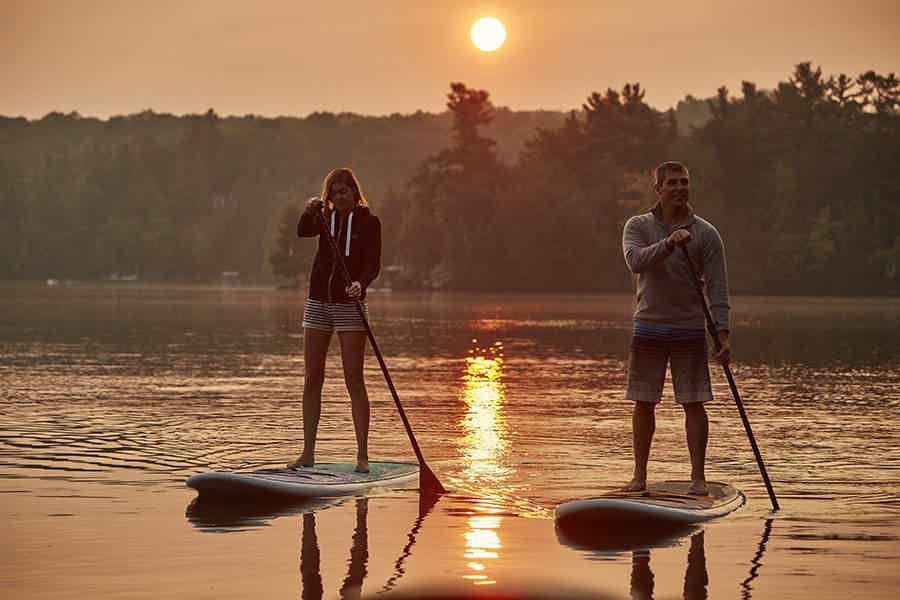 Do you have spot that you have always wanted to fish, but can't get to it by boat? Maybe the water is too shallow, too weedy, or the lake doesn't allow motorised boats? With a SUP board, you can access secret spots that were only fishing fantasy! Load up your board with your fishing gear and start paddling into fishing hot spots.
Pro Tip – You can fish from any stand up paddle board. Fishing specific boards often have a lot more stability and ways to transport your gear, so if you are a hard core fisherman they are well worth it. However, just because you don't have a SUP Fishing board, don't let that stop you as any all around or touring board will do quite nicely!
---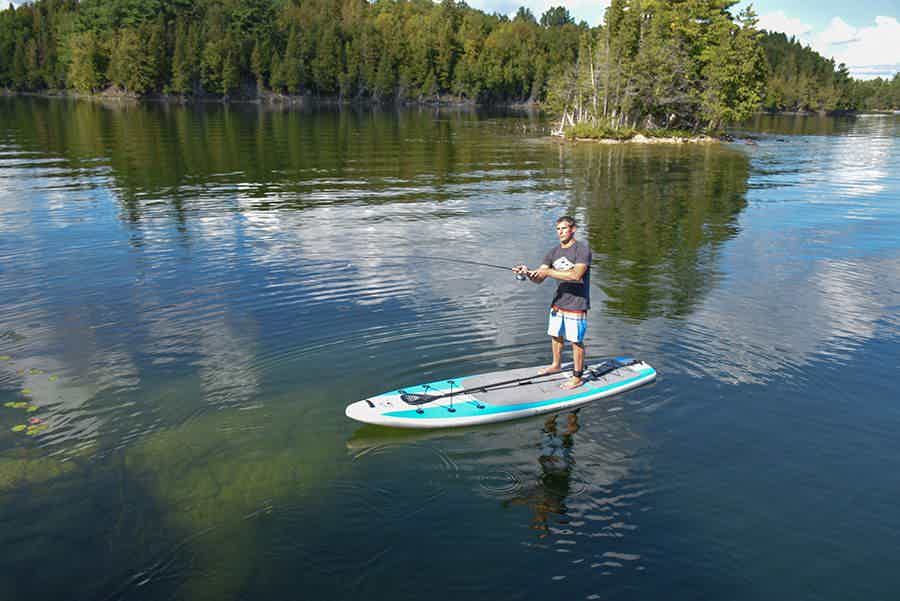 Have you ever wished you could do your practice outside in the fresh air, sunshine, with the gentle sounds of water in the background? SUP Yoga not only gives a great setting for your practice, but also adds an entirely new dimension of balance and challenge. While your SUP board is a stable platform, the water is not, so your balance and strength will be tested in a way entirely different than doing your practice in a studio or at home.
Pro Tip – For SUP Yoga, use a board that has a full length deck pad that has a comfortable texture for your hands and feet. Generally, a brushed EVA or Crocodile Skin texture are the best, harsh pads like diamond groove are best to be avoided. Check out some of our favorite SUP Yoga boards!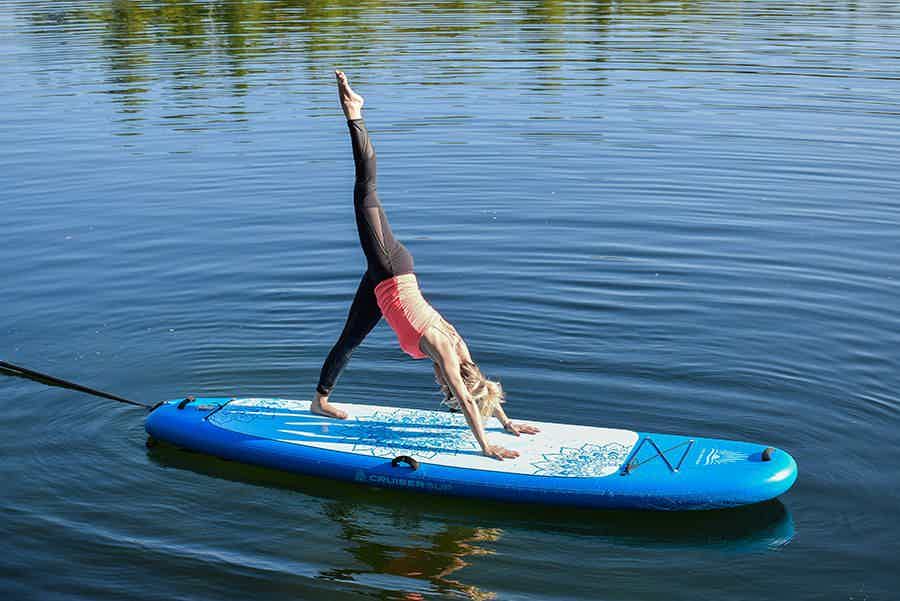 PADDLE BOARD WITH YOUR KIDS
Regardless of their age, kids love to SUP. If they are too small to paddle on their own, they will have a blast riding on the front of your board with you. I have countless sessions with my daughter on the nose of my stand up paddle board where we swim, and spend quality time alone together. Just remember to be safe and they should always wear a PFD. As they get older, start teaching them how to paddle by themselves and start their love of SUP early. Kids won't have the strength or endurance you have at first, so be patient as they learn. A family that paddles together, stays together!
If your kids will ride on your board, make sure it is a stable all around board with a full length, or full wrap deck pad. A full pad will make sure that they have grip and traction when they are on the nose of your board.
Pro Tip – If paddling with kids on your board, take their weight into account when selecting size to make sure the board is stable enough. When looking for a board for your kids, skip kid's specific boards as they will outgrow them too fast. Instead, aim for small adult board so they have room to grow into it, but also so others can use it as well.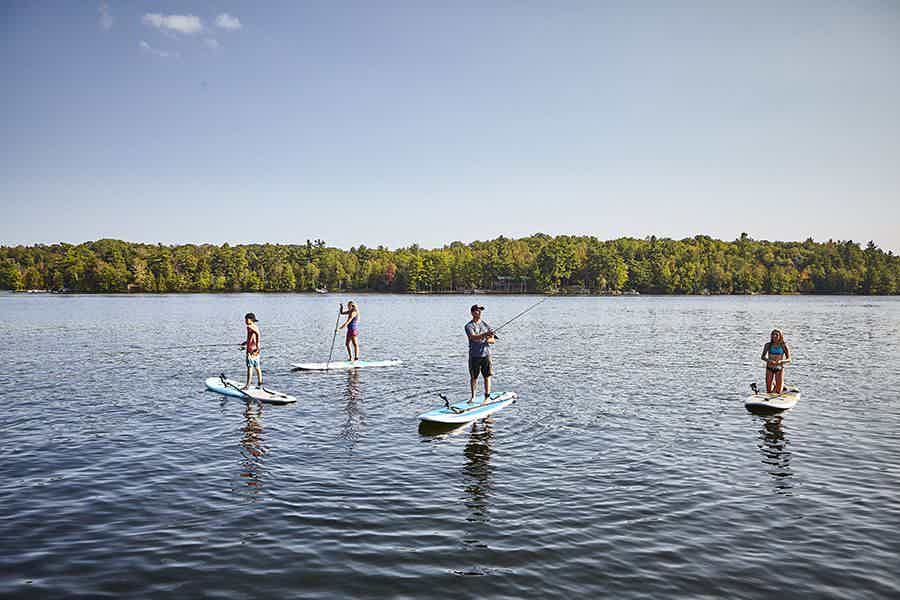 Nowhere is a wonderful place. The places you can go on a SUP board are limited only by your imagination. Remote lakes, rivers, and isolated areas of coast line are just begging to be explored and a SUP is a perfect way to get there. Just pull out a map, pick a spot, and go!
Pro Tip – Always let someone else know where you are going, and when you will be back. If you will be paddling for more than an hour, be sure to take along some food and water.
With so many options other than just standing up and paddling, having a paddle board and some imagination and willingness to try something new will give you endless new adventures.
Did we miss something, or do you have something you do on your SUP we should try? Comment below or email us at info@paddleboarddirect.com