If you have size 13 feet, you don't buy size 5 shoes. The same applies to buying a stand up paddle board! If you weigh 250lbs, you don't buy a board designed for someone that is 125lbs
If you are a larger guy (or girl!), there is no reason we can't help you buy a stand up paddle board that will be stable, easy, and fun to paddle! Buying the right size stand up paddle board is the difference between having a lot of fun and being frustrated. No one likes being frustrated, so let's jump right into what it takes to buy a stand up paddle board for those of use who are larger!
Let us help save you a bit of money on your board order. At checkout enter SAVEBLOG25 on all single board packages for an extra $25 off. For an extra $50 off all 2 board packages, enter SAVEBLOG50 at final checkout!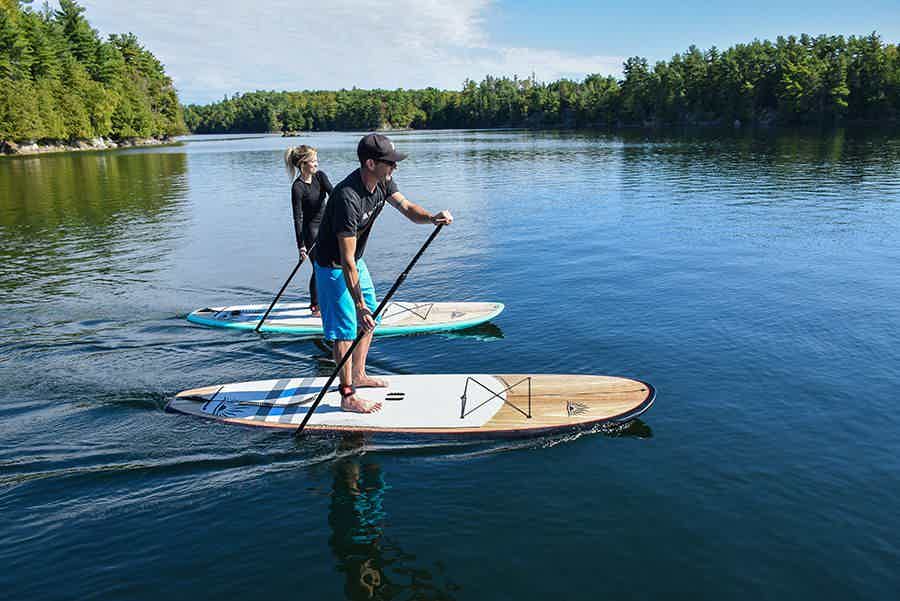 Things like paddling conditions, experience on a stand up paddle board, and height do play a role in helping select your ideal SUP. However, the very first question we are going to ask you is your weight. We know we just met and that is a pretty personal question, but we can't help you select the best stand up paddle board for your weight if we don't know your weight!
This is where we need your total honesty. If you are 280lbs, please don't tell us you are 240lbs! Giving us the wrong weight might impact the board we suggest, and that suggestion, while ideal for the 240lbs you told us, may not be ideal for the actual 280lb you! If you are 280lbs,but have plans to be 230lbs after a summer of paddle boarding, we want to help you reach that goal! But, we are going to pick a board for you at 280lbs.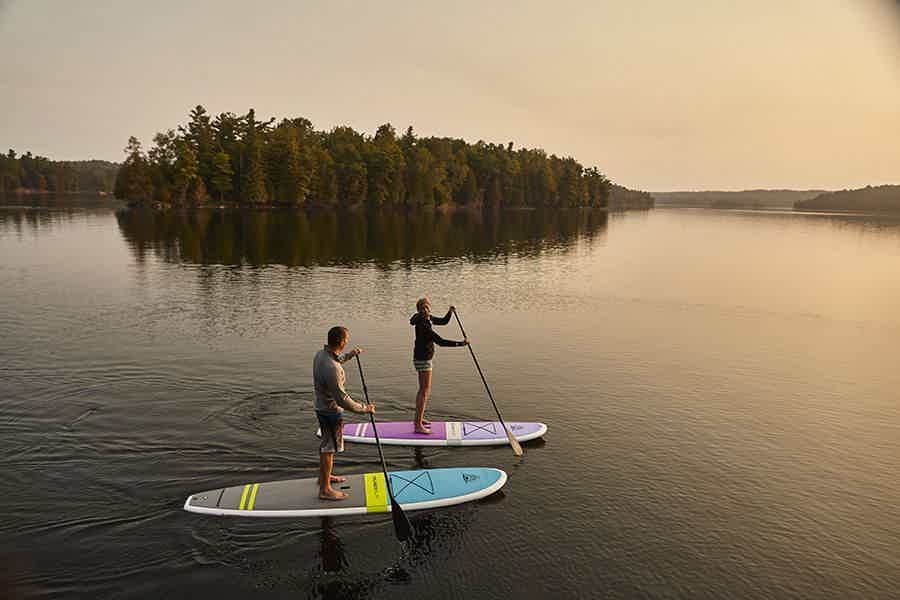 If we size for your goal weight, you might find the board too small, not paddle enough, and not hit your goal. We are all about making sure SUP is as fun and easy as it can be. We are 100% judgement free, all we want to do is get you on the water. If we don't have a board that we think is a good size for you, we will tell you instead of trying to sell you something that doesn't work. We will likely even suggest models that would suit, even if we don't sell them!
What Do You Consider A Larger Person
That is always a bit of a tricky question and for the sake of this article, we are going to call that 240lbs. There are lots of ways to be over 240lbs, and 6'8" and 240lbs is a completely different body shape than someone who is 5'2" and 240lbs. We will likely ask you about your other athletic activities, your balance, and your SUP goals.
How Does My Weight Affect the Size Board I Should Get?
We have a few more in depth articles here and here about the calculations of board sizing and board volume. We look almost exclusively at how your body weight relates to your new stand up paddle boards volume. Volume is a measurement of how much water a board will displace and is the best way to determine board stability. The higher the volume of a board, the more stable it will feel.
For a novice paddle boarder, we like to take your weight and generate a range of board volumes that will be stable. Generally, we take your weight and use the following:
Lower End Volume = Your Weight x 1
Upper End Volume = Your Weight x 1.25
For example, if you weigh 245lbs, we are going to look at boards between 245L of volume and 305L of volume.
When it comes to board selection, please take us up on our offer to contact us by phone or live chat to help you make your selection. We are more than happy to take the time to get to know you, and then suggest the best board for you.
The Best Stand Up Paddle Boards for Larger Weights
Cruiser SUP Escape 11'4
The 11'4 Escape is a high volume, super stable, and super versatile board that performs in anything from calm lake water to small surf! With a full wrap deck pad, and lots of bungee attachment points, the Escape is ideal for novice riders up to 250lbs, and more advanced riders all the way to 300lbs.
Check them out in our Single Board Packages, or save even more with a  Two Board Package.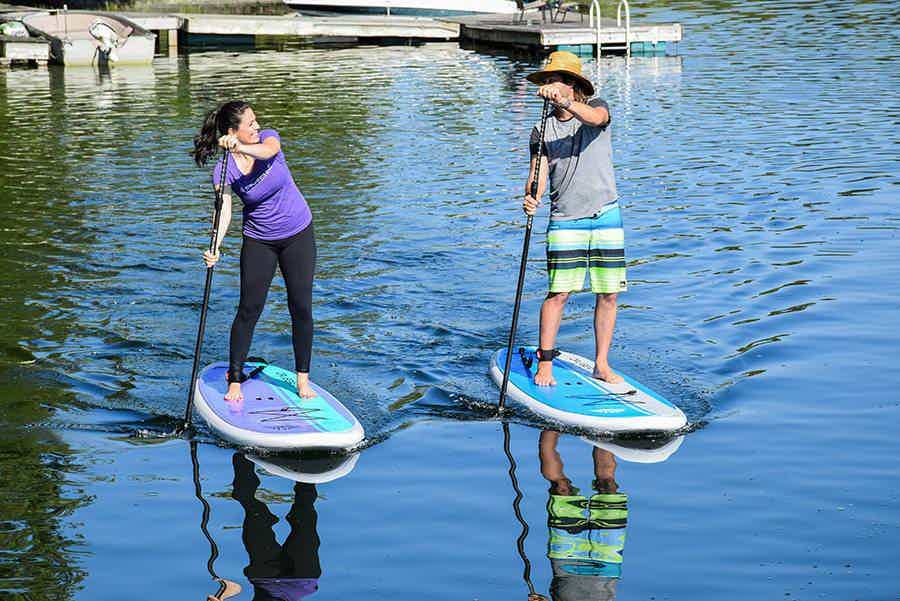 Cruiser SUP Dura-Maxx 11'4
At 260L, the Dura-Maxx is our highest volume non-inflatable board. With its super durable polycarbonate shell construction and full deck pad, the Dura-Maxx is a incredibly stable board for riders up to 320lbs and smaller. Designed specifically for maximum stability in non-surf conditions, the Dura-Maxx 11'4 is stable, easy, and for a board as large as it is, very light at only 32lbs!
The Dura-Maxx is available in Single Board Packages as well as Two Board packages.
Cruiser SUP Fusion 11'6
The Fusion is the quintessential all around board. An ultra stiff and durable molded wood carbon construction gives not only exceptional glide, but also exceptional stability. At 255L, any one up to 295lbs and smaller can be stand up paddle boarding with comfort and ease. Year in and year out, the Fusion is one of our best selling models.
Looking for a Single Board Package?
Looking for a Two Board Package?
Cruiser SUP Blend 11'6
At 245L of volume, the Blend is not only super stable and easy, but without a doubt, the best looking board on the market. The stunning Paulownia Wood finish is a literal work of art. Factor in the Ultra-Light Wood Carbon construction, and shapes designed to maximize glide speed, stability, and tracking, riders up to 280lbs should give the Blend series consideration.
Shop the Blend in Single Board Packages
Shop the Blend in Two Board Packages
Cruiser SUP Escape Air 11'4
Inflatables can be incredibly stable and are exceptionally portable and easy to store. A high air pressure capacity is what makes an inflatable board stable, and the Escape Air will handle a staggering 18psi of pressure. Don't waste your money on cheaper boards that only go to 15psi or less as they will feel like you are standing on an air mattress. At a whopping 280L of volume and 33.5" of width, the Escape Air is a great inflatable paddle board option for riders up to 330lbs.
Check out our Escape Air Single Board Packages and extra savings on Two Board Packages.
Stand Up Paddle Boards For Larger Paddlers
As you can see, there are tons of options for stand up paddlers who are 240lbs or more. When it comes to buying the best stand up paddle board, take us up on our offer of a personalized consultation with one of our expert staff. We will make sure you get the best board for your needs and budget.
Have questions? Give us a call at 888-291-9905, email us at info@paddleboarddirect.com, or click the Live Chat icon at the bottom right of your screen!