The CruiserSUP® Escape Super-Lite paddle board range is available in 7 sizes from 7'11" to 11'4". The great boards are all about versatility, durability, affordability, and ease of use. Available in 7 sizes, and three different color options, there is a size and color for every size stand up paddle boarder. Let's dive right in and take a look!
Who is the Escape Super-Lite paddle board range for?
Quite simply, Everyone. No kidding.
It is literally the one paddle board that can do it call. Those paddle boarding in calm waters such as lakes, rivers, and bays love the efficient glide and stability. Anyone looking to do SUP Yoga or paddleboard with your dog or kids will love the fact that in addition to being super stable, they have a full wrap deck pad giving grip and traction all over. Ever try to paddle with dog on the front of a slippery SUP board that doesn't have a full wrap deck pad. Trust us, you will be thanking us later for that tip!
Like the name implies though, the beauty of the Escape Super-Lite's is their all around shapes that can handle everything. They glide like they are on rails, but also turn on a dime in surf. You can buy an Escape as your first board knowing that you can quickly and easily learn, but have tons of room for progression. It is safe to say the Escape is the most all around paddle board we have paddled (and we have paddled a lot of boards).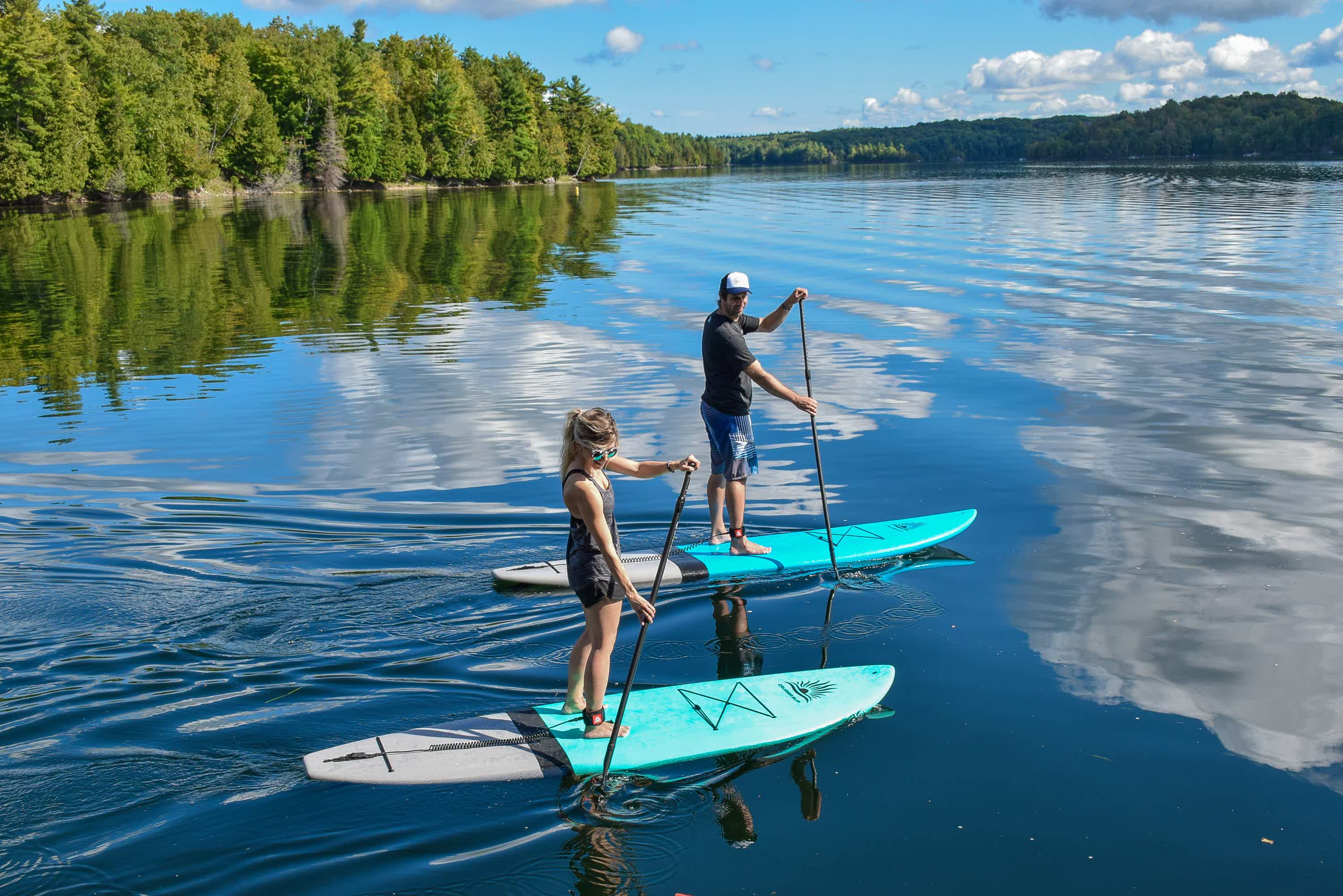 SIZING YOUR ESCAPE

SUPER-LITE
Cruiser SUP makes paddleboard sizing super easy. With the volume of each board calculated with accuracy, and a weight range provided for both novice and advanced paddle boarders, it is no problem to select the best SUP board size for your weight.
If you are just starting out in the sport or paddleboard mostly in calmer waters or small surf, use the beginner weight ratings, and if a little more advanced or using mainly in surf, you can look a bit more at the advanced weights.
For example, a 180lb stand up paddleboarder can do really well with the 10'8 sizing. If you are going to share the board with those that are larger than you, size to fit the largest weight of rider.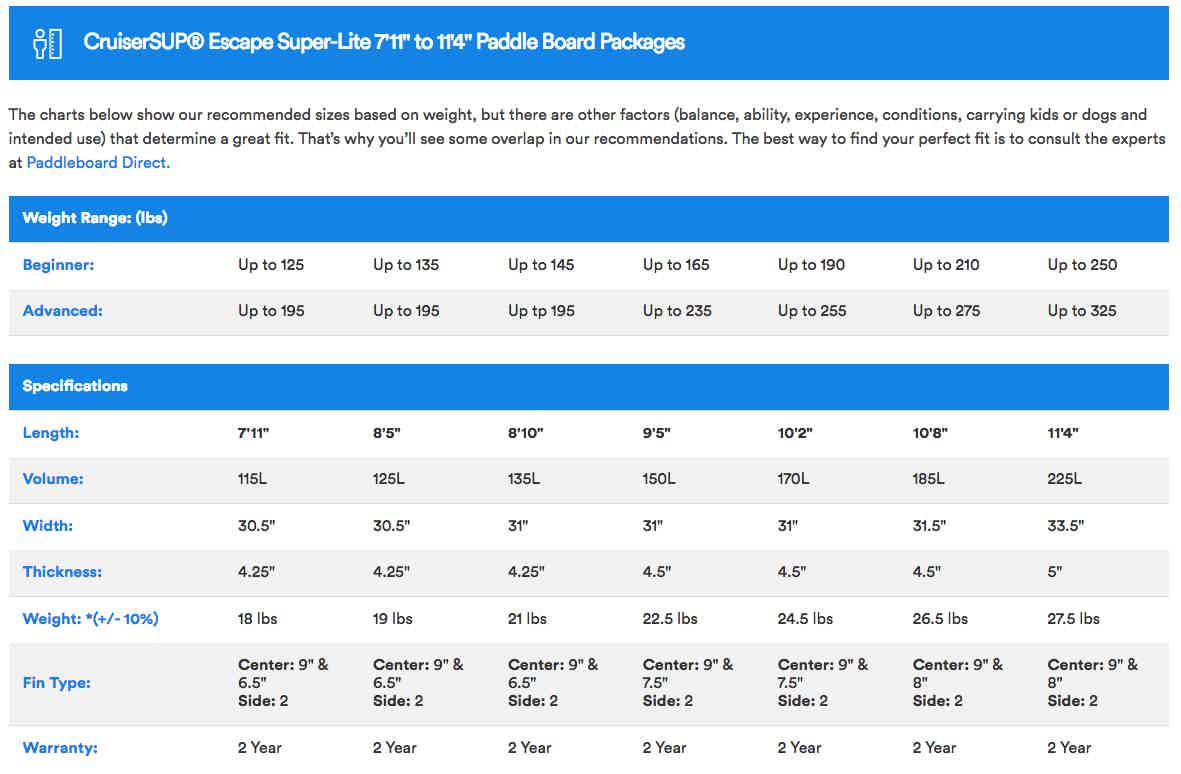 We make sure that you are ready to hit the water when your paddle board arrives. Along with free shipping to nearly everywhere in the continental US, your new board will also include:
Cruiser SUP 8" Adjustable paddle that will adjust to fit paddlers from 4'8" through 6'5". Upgrade that to a 100% carbon version at only $99!

Tool Less middle fin and Future base side fins allowing you to customize your boards performance to your paddling condition

4 bungee tie down points to the front of the board, and two towards the tail allow you to carry anything you want on the water

Premium full wrap deck pad for traction, comfort and durability

Go Pro Mount on the nose

Ergonomic carry handle which makes getting your board to and from the water a snap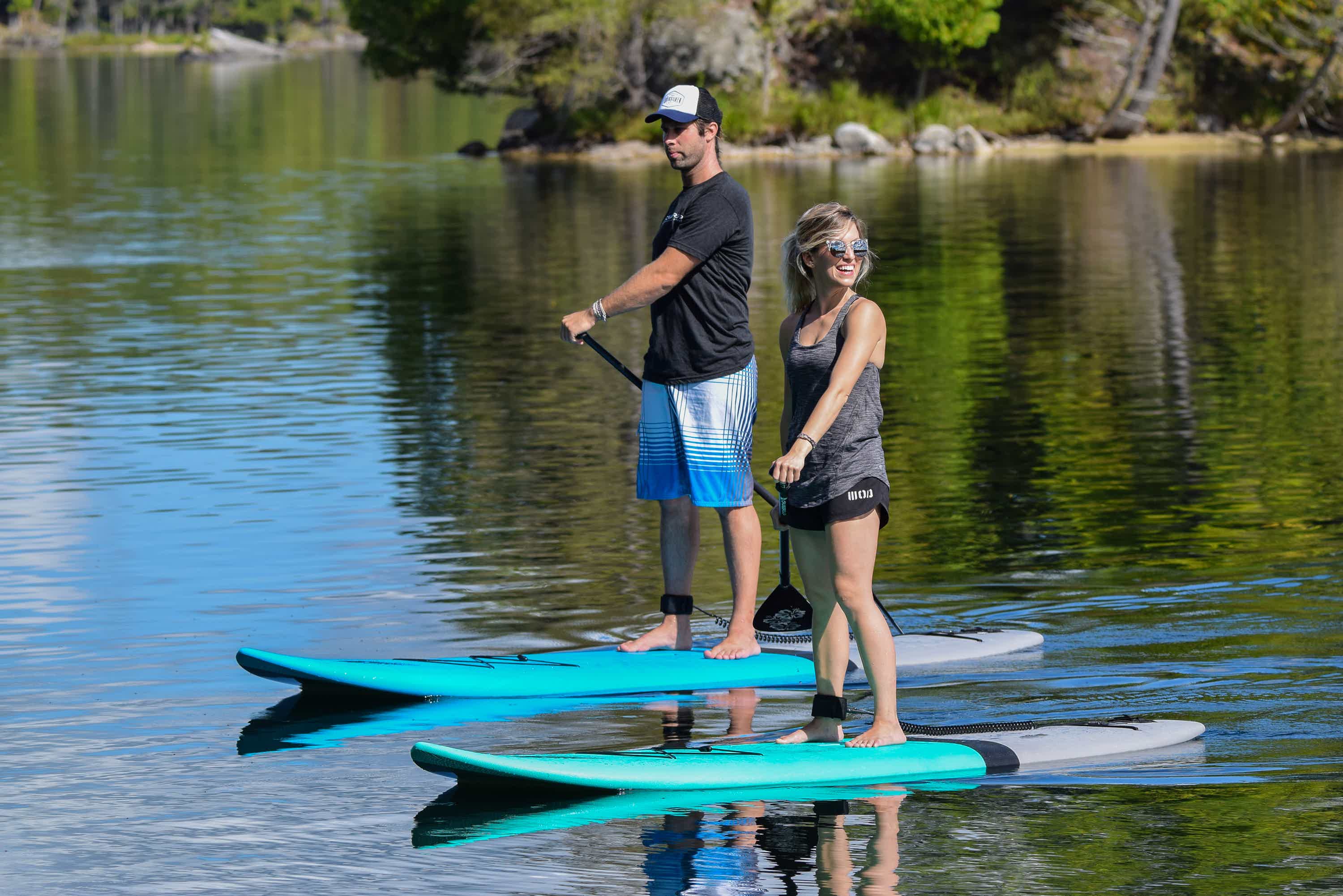 WHY A FULL WRAP DECK PAD?
Full wrap deck pads are a thing of beauty.   The traction pad that most other models and brands only offer under your feet is extended to cover not on the entire top of the board, but also the rails (or sides of the board). This does a few things:
Eliminates any slippery areas on the paddle board, which is ideal if you are using your Escape for SUP Yoga, or paddling with your kids, or dog.

Adds a ton of durability. An rail that doesn't have a full wrap deck pad is prone to impact damage if you drop it, or strike the paddle on the side. With the full wrap pad, the rails are protected to extend the life of your board like crazy!
With the ergonomic carry handle and light weight Super-Lite construction, getting the paddleboard to the water is snap. As soon as you step on you will notice the width and lower profile design offers a huge amount of stability. Gone are the days of thick boards that sit high in the water. The lower center of gravity of the Escape offers unbeatable stability.
The common word that comes out of those who paddle the Escape is the word "lively" to describe how it feels once you start paddling. With detailed SUP board shaping designed to maximize glide, the Escape jumps to life with each paddle stroke, and the light weight shape keeps the board feeling light and snappy under foot.
Choppy waters are smoothed out with the bottom shape designed to keep the ride smooth, and the ample nose rocker keep the nose of your board from catching on even the biggest pieces of chop.
For those looking to get into SUP surfing, the Escape in the larger sizes make a great option to make the most of smaller waves days (when you should be learning anyways!!). With lots of volume, you can take off on even the smallest of waves and shoot down the line like a pro. More advanced surfers can look at the smaller sizes of Escape in the sizing of board they prefer, but can also step up to the Classic construction for an even livelier board!
WHAT CUSTOMERS ARE SAYING


---
Cruiser SUP Escape Super-Lite Review
If you are looking for one paddle board to do it all – then you have found it. There are a lot of SUP boards on the market that can do one thing very well, and lots that can do a lot of things poorly. But, of all the paddleboards we have tested, the Escape stands out in its ability to do pretty much everything exceptionally well. Sure, you aren't going to go head to head with a 12'6 carbon race board and win – but, then again, a 12'6 carbon race paddle board doesn't start at the wallet friendly pricing of $695!
Need help picking the sizing that is best for you? Just click on the Live Chat button to your right, or give us a call at 888-291-9905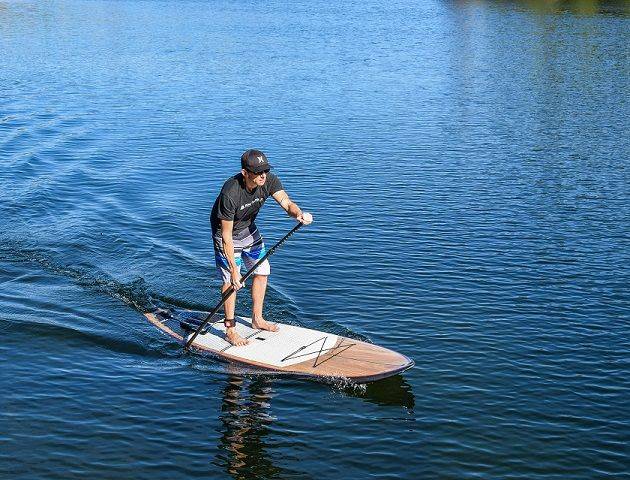 Glenn Morton is Customer Experience Manager at Paddleboard Direct, as well as chief content creator. Glenn has been stand up paddle boarding and windsurfing over 20 years, and has been with Paddleboard Direct for over 15 years. When not on the water, Glenn can be found on his road bike, a ski hill, or raising his 12 year old daughter Nora. Glenn is an expert in all things paddle boarding including paddle board technique, SUP safety, and all paddle board products. Customers rely on Glenn's expertise to help guide them in their purchase of the best stand up paddle boards for their needs. Glenn helps equip thousands of paddle boarders each year, and is ready and waiting to help you.