---
Smaller sizing, lighter weight and awesome graphics are what differentiate women's stand up paddle boards
Check out the incredible deals on CruiserSUP® Escape Super-Lite from 18.5 pounds! Quantities are very limited
---
---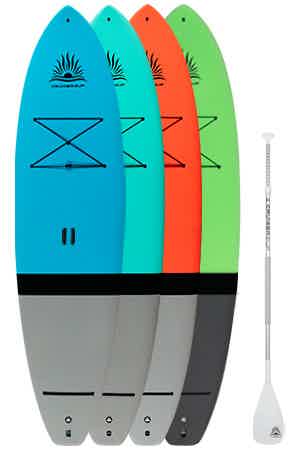 Best Value and Versatility
One Board Does It All! Ease of use, stunning performance, carbon reinforced construction, premium full cover deck pad, Free Paddle, Ship* & 2 Year Warranty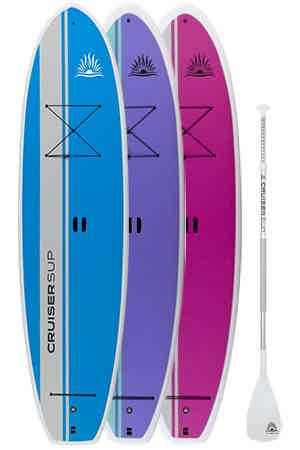 Most Durable/Best Family Boards
Most durable board we offer. Light weight for families, cottage and rental. Dura-Shield™ Shell, Full Deck Pad, Free Paddle, 2 Year Warranty, Ship* & More
---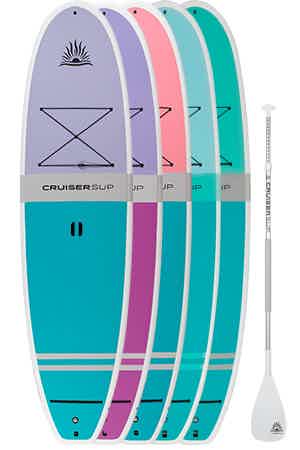 Lightest/Best Selling Women's Board
Light, lively & stable. Reinforced with Premium Innegra-Carbon. Cruise, Yoga, Fish, Carry Kids or Pets. Full Length Comfort Top Deck Pad, 3 Fins, Bungees, Free Paddle, 2 Year Warranty, Ship* & More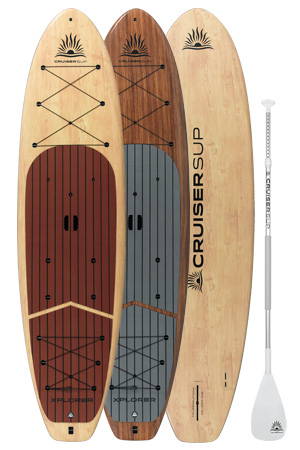 Best Adventure Board
Based on the best selling Dura-Maxx. Loaded with extra features and stunning wood graphic. Combines bomber construction with stability, and great price. Extra inserts, bungees and cable lockable handle. Free Paddle, Ship* & 2 Year Warranty
---
Best Women's Stand Up Paddle Board Packages



Premium Packages With Two Year Warranty Now $675 To $995
Smaller sizing, lighter weight and awesome graphics are what differentiate women's stand up paddle boards
5 Star Review - Best Board
CruiserSUP® Dura-Maxx Paddle Board Package
"This is my third board and by far the best yet. It's durable and excellent for yoga. Excellent company with great customer service. I'm on the water every chance I get and also teach SUP yoga, I can't say enough great things about this board and company!" Jen
Premium Quality Packages With Two Year Warranty Now $675 To $995.
Smaller sizing, lighter weight and awesome graphics differentiate women's stand up paddle boards.
---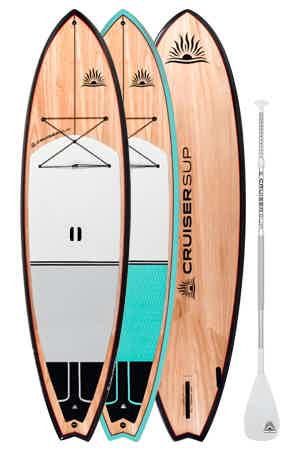 High Performance All Round Boards
Our most versatile boards, with stunning looks, performance and Wood/Carbon construction! With Tool-less side fins, surf & touring center Fins, Premium Surf Deck Pad, Free Paddle, Ship* & 2 Year Warranty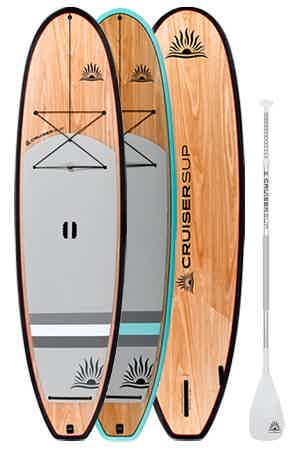 Best Wood/Carbon All Rounder
Light, Stable, Durable, Fast & Versatile. Stunning Clear Wood & Carbon Reinforcement. With Comfort Top Deck Pad, Tool-less 9" Touring Fin, 2 Side Swept Center Fin, Deck Bungees, 2 Year warranty, Free Paddle, Ship* & More
---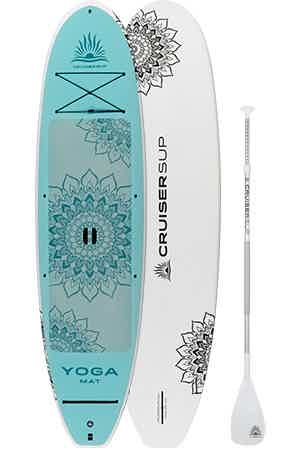 Best Yoga Board
The Best Yoga SUP Boards you can find! Stable, Light, Versatile. Full Length Yoga Deck Pad, Yoga Deck Inserts & Bungees, 3 Fins, Free Paddle, Ship* & 2 Year Warranty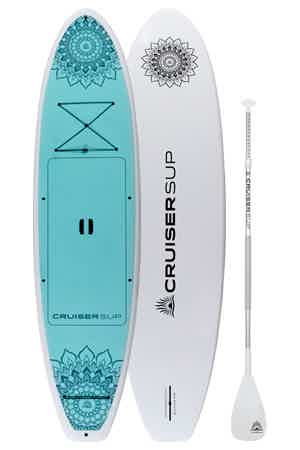 Most Durable Yoga Board
Take your yoga practice or studio to the water! Scratch and ding proof Dura-Shield ™ shell. With Paddle, Premium Yoga Deck Pad, Bungees, Ship* & 2 Year Warranty
BEST WOMEN'S STAND UP PADDLE BOARDS
Ask Us For Live Chat Extra Discount Code - Applies To Select Packages Today Only
Check out the incredible deals on CruiserSUP® Escape Super-Lite from 18.5 pounds! Quantities are very limited
Why settle for riding a giant SUP board that is designed for a 250lbs man when you can pick from our huge selection of women's specific board shapes and graphics. Go ahead - paddle like a girl!
As always, your paddle and shipping* are on us! (some restrictions apply)
I Like Them All - How Do I Choose?
Decisions, Decisions.
Our biggest advice when picking out which Women SUP boards to buy is to pick the right stand up paddle board first, then pick the graphics. We have all too often had customers do the opposite and then find out while the board looks great it isn't the right size. With a quick consultation with one of our staff, we will ask you a few questions and get to know you a bit better.
From there, we will give you a couple of suitable standup paddleboards for your weight (and sorry in advance, we are going to ask that), conditions, and budget. Then, you can pick the one that suits your style and personality best!
Also, check out our many Paddleboards for sale on our closeout page
Ready to talk? We sure are. Give us a call, e-mail, or join us on Live Chat.
What are the Best Paddle Boards For Women?
You likely don't buy men's shoes, so why would you buy a men's stand up paddle board? The best women's stand up paddle boards are light weight, sized for lighter riders, and come in a variety of vibrant and exciting colors and graphics.
While there is no typical size man or woman, we find generally our female customers are lighter than men. With lighter weight riders comes the ability to paddle board on smaller SUP boards that are lighter and easier to maneuver. These more compact sized paddle boards are also easier to transport off the water, as some weigh as little as 19 pounds. We also find that many men prefer more traditionally female colors, and many women do not always like the more traditional female colors. That is why Cruiser SUP makes nearly all their paddle boards in sizes and colors that can be used by both men, and women. When it comes to women's stand up paddle boards, one size does not fit all, and for maximum paddle boarding enjoyment it is essential to have a paddle board sized properly, by our professionals, to make sure paddle boarding is fun and easy.
Some of our best selling women's paddle boards are the Escape, Bliss, Yoga Mat, Blend, Fusion, and All Terrain Classic. All come in several sizes, and several color options so you find your perfect light weight paddle board.
How do i choose a stand up paddle board For A Woman?
Our recommended paddleboard for you is based on Live Chat discussion of user weight, but there are other factors, like your budget, board durability, ease of use, weight, shape and performance characteristics, that determine a great fit. That's why you'll see some overlap in our recommendations. The best way to find your perfect fit is to consult with the experts at Paddleboard Direct by Live Chat.
To learn more, check out our SUP Buyers Guide here: https://paddleboarddirect.com/pages/how-to-choose-a-stand-up-paddle-board
Why is a Two Year Paddle Board Warranty Important?
A paddle board warranty is peace of mind. Stand up paddle boards are relatively expensive, and quality matters. Warranty length is a sign of how confident a SUP brand is in their product. Cruiser SUP offers a 2 year warranty on all rigid (non-inflatable) women's stand up paddle boards, and are one of the very few to do so. Since started making stand up paddle boards in 2007, they have refined and perfected their construction technologies unlike any other brand. This gives us the confidence to offer a paddle board warranty that is longer than nearly every other rigid paddle board brand. Many brands offer warranties are are 180 days, or less. Cruiser SUP's warranty is FOUR times as long as this! If you get a light weight paddle board as holiday gift in December, the warranty will have already expired by the time summer comes around. In some areas of the country, you may have not even have gone paddle boarding on your new board! Don't make the mistake of purchasing a stand up paddle board with anything less than a 2 year warranty!
Why are Rigid paddle boards better than inflatable Paddle Boards for Women?
When looking at which women's stand paddle board to buy, the question we are asked most often is which are better, inflatable paddle boards or rigid paddle boards (also known as hard paddle boards, epoxy stand up paddleboards or regular SUP boards). If you have no storage space for a hard paddle board, an inflatable SUP would be worth considering. However, that is where the advantages of inflatable paddle boards end.
Inflatable paddle boards need to be inflated before use, which can be a very long and difficult process. Generally, it will take 15 minutes to blow up an inflatable paddle board with the hand pump. The pumping process gets harder and hard as you get more pressure into the paddle board. Both men and women struggle to pump inflatable paddle boards to the suggest PSI, often getting no more than half way before giving up. This leaves the paddle boards soft and lacking both stability and performance. A rigid stand up paddle board is always ready to go, just pick up your light weight paddle board by the carry handle, grab your paddle, and hit the water. No pumping required!
Rigid paddle boards are also safer than inflatable paddle boards. Anything that is full of air is susceptible to air leaks. When paddle boarding, an air leak on an inflatable paddle board could turn a great day on the water to a potential emergency situation. An inflatable paddle board with no air is impossible to stand up on, and will leave you stranded in the water. A rigid paddle board can never lose flotation!
If you want to read more in depth explanations of why hard stand up paddle boards are safer, and just all around better, Regular Paddle Boards are Better Than Inflatable Paddle Boards and Rigid vs Inflatable Stand Up Paddle Boards – Which are Safer? are must reads! We have lots of customers that purchase a hard paddle board to replace an inflatable paddle board they didn't like, but very few (if any) that replace a hard SUP board with inflatable paddle boards!
What are the Easiest Stand Up Paddle Boards to Carry?
To make carrying your new women's paddle board as easy as possible, not only do you want to consider a light weight paddle board that is sized for your weight, but also the style of carry handle that the SUP board has. As stand up paddle boards are wider than your arm span, a carry handle in the middle of the paddle board is crucial to carrying your stand up paddle board.
Inflatable stand up paddle boards have nylon carry handles that are glued to the top of the board. Being nylon, they do have a tendency to wear out and tear, and as your board ages, the glue holding the handle to the board can deteriorate and separate from the paddle board.
Some brands use handles that pop out of the paddle board. These handles have a several moving parts to function properly, and things like salt water and sand do not always agree with moving parts. If the handles stop being able to pop out of the board, you will not be able to carry your SUP board anymore.
The Cruiser SUP EZ Grab handle is featured on all the paddle boards in the women's stand up paddle board collection. This ergonomically designed handle is comfortable on both sides, is spacious to allow a good grip, as well, has a middle grab handle to make picking up your SUP board as easy as possible. It is also fully lockable by threading any cable lock style lock through the handle. Easy to carry, and easy to lock!
The carry handle must also be positioned on the paddle board so it is at the exact balance point of the board. If the handle is not positioned correctly, the paddle board will either tip towards the front or back, making it awkward to carry. Manufacturers of cheaper stand up paddle boards often overlook this key element of design!
WHICH PADDLE BOARDS ARE BEST FOR ME?
Best Customer Service, Paddle Board Deals and Two Year Warranty*
Ask us which Stand Up Paddle Board package best suits your needs and budget.
Live Chat with a Paddle Board Expert Today. We're Here to Help. Before and After Your Purchase.
Stand Up Paddle Board Industry Leader for Service, Quality and Value – Since 2007.
Who makes the best paddle boards and which paddle boards are best for me?
CruiserSUP® has been an industry leader for ten years, with unrivaled quality, durability, ease of use and performance. Backed by a 2 Year Warranty.
Looking for the best deals on clearance paddle boards? Check out our Factory Direct Savings for best value you can find.
What is the best paddleboard for your lake or practice yoga? We have the answers.
Closeout quantities are very limited and one only of many standup paddleboard models. Don't miss out!
Save Hundreds Now on very durable, premium quality and light weight SUP boards from 18 pounds. Free paddle, free shipping* (restrictions apply) and no sales tax (most states).
Don't Guess and Choose the Wrong Paddle Board. We're Here to Help. Before and After Your Purchase.
Trust our experts 24 years experience (SUP & surf board retailer since 1994). We will recommend the paddleboard that best suits your needs and budget.
Ask Us Which Board Package Best Suits Your Needs and Budget. Save hundreds now on your standup paddle board purchase. Check our huge selection of paddle boards for sale at discounted pricing. The best value is when you purchase a board you will be happy with for many hours and years on the water. A cheap board is not the best value if it is very heavy or doesn't suit your needs.
We offer customers the best service, value and savings on a new SUP boards for sale package. Paddleboard Direct works closely with major brands to offer the highest discounts and lowest sale prices. The high quality boards we offer are unsurpassed for value and include 1 to 2 year warranty.
Shop our collection of clearance stand up paddle boards find discount paddleboards for sale that will save you hundreds off retail pricing, and include a free paddle, free shipping* and no sales tax to many states.
Stock, Availability, and Website Accuracy
We will send you a personal e-mail to confirm stock availability if we are out of stock, delayed or recommend a substitution.
All products are subject to availability and we are not responsible for web-site inaccuracies regarding stock availability.
SUP Yoga is a fusion of Yoga, and paddle boarding. Instead of doing your Yoga practice on a yoga mat at home or in a studio, you take your practice to the water and do it on your stand up paddle board. Not only does it add the unique opportunity to be outside while doing Yoga, it also adds an extra element of challenge to even the most basic of poses as the motion of the water will test your balance in new ways!
The best stand up paddle boards for yoga feature full length deck pads for grip and traction, ample width for stability, but also shapes that are not only great for Yoga, but also all around paddle boarding. Often over looked is just how important a full length deck pad is. The deck pad on a paddle board that doesn't have a full length deck pad is not long enough to give both your hands and feet traction when doing Yoga poses.
Cruiser SUP offers several light weight paddle boards that are exceptionally wonderful stand up paddle board Yoga boards. The Yoga Mat, Balance, Dura-Maxx, Fusion, and Bliss all offer a full length deck pad and shapes that have been optimized for both SUP Yoga, but also cruising.
Can I Take my Dog on my Stand Up Paddle Board?
For sure! You dog will likely follow you anywhere, and being on the water is no different. We get hundreds of pictures a summer of people loving paddle boarding with their dogs. A few things to keep in mind if you want to stand up paddle board with your dog.
Paddle board sizing is done mainly by body weight. However, in the case of paddle boarding with a dog, we want to be sure we add your dogs weight to your weight. If you are 130 lbs, and your dog is 70 lbs, we want to make sure your paddle board will support at least 200 pounds. If we sized for only your weight, it might end up being a little small and tippy feeling when your dog gets on your SUP board.
A full length deck pad is also a must have for paddle boarding with a dog. Non padded areas of a paddle board are quite slippery, and your dog will find in a challenge to stand up. You will find it most comfortable to have your dog in front of you, as opposed to behind you when paddling. A full length deck pad like on the Bliss, Dura-Maxx, Escape or Fusion will make sure your four legged friend is comfortable and safe! If you want to learn more about paddle boarding with your dog, our Pups that SUP page has everything you could ever want to know!
Can I take a child on my paddle board?
There is no better way to spend time with your kids than on the water, and stand up paddle boarding is the best way to do that. Kids that are not old enough to paddle on their own will love riding along on the front of your paddle board.
When paddle boarding with kids, you want it to be as fun, but also as safe, as possible. The rigid stand up paddle board you select should be super stable, and large enough to be stable for both your weight, and your child's combined. Kids tend to be pretty active when on a SUP board, as opposed to just sitting still, so some extra size and stability is never a bad idea either. All the models on in our women's stand up paddle board collection come in several sizes so you can the perfect size.
Full length deck pad paddle boards also make paddling a lot safer and comfortable. Wet feet on an non padded area of a paddle board can be really slippery, which can lead to unwanted falls. Paddle boards like the Dura-Maxx, Bliss, Fusion, and Escape are perfect SUP boards for paddle boarding with kids.
You can read SUP Safety For Kids to help make paddle boarding with your son or daughter (or both!) as safe and fun as possible!
What is a light weight stand up paddle board?
When looking at stand up paddle board weights, it is almost easier to first look at what is too heavy, and what is too light first. Stand up paddle boarding really gained popularity in 2006, and a lot has changed since then. The first paddle boards were quite heavy, with paddle boards over 35 pounds being common. Even today, low cost plastic paddle boards can weigh in excess of 50 pounds. This is far too heavy! There is no need to have a stand up paddle board that is heavy, it will only make carrying your paddle board difficult, and paddling slow.
The opposite side of a paddle board being too heavy is a SUP that is too light. Small paddle boards can be very light due to their smaller dimensions, however they can also be only suited for very small riders, or advanced surfers. The most popular size of all around stand up paddle boards range in the 9'5" to 11'6" range, and it is impossible to make a paddle board in this size range lighter than 20 pounds and still maintain a quality construction. Often manufacturers will remove key construction components to try to reduce the weight of a paddleboard. Removing things like deck pads, stringers, and fiberglass layers lowers the weight, but also removes any trace of durability and performance. Cheap paddle boards are are very light are likely going to be very fragile and a waste of money.
A light weight paddle board is something that will range between 20 and 30 pounds depending on the exact size. Paddle boards in this weight range will be durable, strong, and still be very easy to transport. Having a light weight stand up paddle board will make transporting your SUP easier, but also give much better performance than a heavy stand up paddle board.