Cruiser SUP® Escape Inflatable Paddle Board Packages
Why you'll love it...
• Light, Lively, Durable, Versatile, Rigid & Portable
• Great for Cruising, Yoga, Surf, Fishing, Carry Kids or Dog
• 18psi inflation capacity. Much stiffer than lower priced inflatables
• Bravo dual action pump included, cuts inflation time in half
• Wheeled carrying case to make storage and transport as easy as possible

5 star rated CruiserSUP® Escape AIR are super versatile, durable and light, with weight starting at 16 pounds. Great in choppy water, due to more refined, narrow nose than round nose boards. Premium quality, supported with 2 year warranty. 7 sizes (up to 5 colors to chose from). Match rider weight, ability and needs - because board ranges with one size do not fit all.

It's right for you if
You are looking for a super portable, durable inflatable with stiffness that rivals non-inflatable boards. With the Escape All-Terrain AIR's impressive 18psi inflation capacity, you will have all the stiffness, glide, and tracking of a non-inflatable, just in a much easier to store and transport form.


The final word
The Escape All-Terrain AIR lets you go paddling anywhere, at any time. Simply inflate and start exploring your local lake, river, surf spot or dream remote paddling destination. Great for SUP yoga practice.
Technical Specifications
Cruiser SUP® Escape Inflatable Paddle Board Packages
The charts below show our recommended sizes based on weight, but there are other factors (balance, ability, experience, conditions, carrying kids or dogs and intended use) that determine a great fit. That's why you'll see some overlap in our recommendations. The best way to find your perfect fit is to consult the experts at Paddleboard Direct.
Weight Range: (lbs)
Beginner:
Up to 135
Up to 155
Up to 165
Up to 180
Up to 235
Up to 260
Up to 300
Advanced:
Up to 185
Up to 195
Up tp 205
Up to 225
Up to 255
Up to 275
Up to 325
Specifications
Length:
7'11"
8'5"
8'10"
9'5"
10'2"
10'8"
11'4"
Volume:
120L
140L
150L
165L
220L
245L
280L
Width:
31"
31"
31.5"
31.5"
32"
32.5"
33.5"
Thickness:
4.25"
4.75"
4.75"
4.75"
4.75"
6"
6"
Weight: *(+/- 10%)
16.5 lbs
17.5 lbs
18.5lbs
19.5 lbs
21.5 lbs
22.5 lbs
24.5 lbs
Fin Type:
Center: 9" & 6.5"
Side: 2
Center: 9" & 6.5"
Side: 2
Center: 9" & 6.5"
Side: 2
Center: 9" & 6.5"
Side: 2
Center: 9" & 7.5"
Side: 2
Center: 9" & 7.5"
Side: 2
Center: 9" & 8"
Side: 2
Warranty:
2 Year
2 Year
2 Year
2 Year
2 Year
2 Year
2 Year
Board Construction
Dura-Air Technology
V-Drop Stitch Material
The Dura-Air construction features V-Drop Stitch Material, which is a durable PVC. On the inside, thousands of nylon threads connect the deck with the bottom of the board to keep it in a functional and performing shape. Utilizing the best drop-stitch material available on the market, this newly developed technology provides a perfect ratio of durability, weight and price.
Built using specially produced, high density drop stitch that makes for a stronger and stiffer core. Take a look on the outside of a Cruiser SUP Dura-Air board and you will see thousands of dimples spread from nose to tail and rail to rail. Each dimple represents an internal thread. We do not use Linear drop stitch which is a mass produced, cheap material that cannot hold high pressure. Linear boards can be identified by the straight lines of dimples on the board.
All our boards are made with the latest PVC Drop stitch fabrics. The fabric filaments between the two PVC layers surfaces are assembled to the PVC itself, by new Cruiser SUP Dura-Air Technology. Offering the best bond between the fabric filaments and the PVC surface layers; this secures a high stress durability over a long time frame. These special new Cruiser SUP Dura-Air fabrics are the only fabrics that have been tested to be able to withstand up to 43 psi inflation pressure and can be normally used with an average of 15 to 20 psi inflating pressure. Higher pressure means stiffer boards, that can hold their original shape at all times, thus preventing shape deformation, and thereby delivering better performance in all conditions.
In addition to these special drop stitch fabrics, the boards are heat laminated with an extra Heavy Duty full layer PVC woven marine grade fabric on the deck and bottom, so that the Dura-Air boards are both strong and durable, prevent the shape "twisting" and maintain the rocker line, as originally designed.
Cruiser SUP® Escape Inflatable Paddle Board Packages Features
Premium Crocodile Skin Deck Pad
High quality, plush EVA foam coverage for a soft, comfortable touch. With 4.5mm non-slip 'crocodile" texture EVA foam, it is extremely comfortable for cruising and yoga.
Bungee System
Carry along anything you want from water bottle to PFD. 4 attachment points in front of the pad, and 2 on the tail allow you to take a long whatever you want.
2+1 Fin Set Up
Comes standard with a removable center box fin and 2 small fins for better performance and tracking in the surf and flat water.
Dual Action HD Pump and Back Pack
Easy transport and storage of your board, paddle and pump with the Cruiser SUP Back pack.
Dual action HD pump is a great way to inflate your board, with all up and down strokes forcing air into your board. Also use the pump to deflate for storage.
(Included) 8" Composite Blade, Three Piece Adjustable Length Alloy Stand Up Paddle
Weight: 42oz. Perfect for whole family to use Super durable, and great value for money.  Perfect for beginner use. Adjustable aluminum shaft (170 - 210cm) Lever Lock Length: 170-210cm/67-83inches Blade Volume: 105 sq in Blade Length x Width:...
Learn More
CruiserSUP® 3 Piece All Carbon Adjustable Length Stand Up Paddle
(Removable Blade and Handle) Great SUP Paddle For: Cruising, Touring, Racing, Surfing Performance paddle that compliments the entire Cruiser SUP range SUPer light, and great value for money.  Perfect for beginner to expert use. Adjustable length...
Learn More
CruiserSUP® Deluxe Straight Leash with Quick Attach
Cruiser SUP 7mm straight leashes fit all boards perfectly, are constructed from high quality components and meet our rigorous standards of workmanship. With a detachable rail saver, swivel and moulded stand-off on the ankle end. Our 9' & 10' l...
Learn More
Bravo Inflatable SUP Pump
The Bravo BP12 is a super efficient lightweight single stage high pressure piston pump that will inflate from 1 to 14.5 psi. Simply set the turn dial to your desired pressure setting, press the "on" button and this little workhorse will do the res...
Learn More
Rigid/Hard/Epoxy/Non-Inflatable
Paddle Boards
Trust Our 25 Year Experience Shipping Rigid Boards
All rigid Paddle boards are double boxed to ensure they ship safely and arrive in pristine condition.
All composite boards, due to their size, must ship by freight carrier. Our chosen carrier for over the last 15 years is YRC
Free Shipping* to most U.S. mainland residence, work/commercial addresses, or local YRC Freight terminal for customer pick up. *Restrictions and conditions may apply.
Most in-stock orders leave our warehouse within 1 to 2 business days (after paid and finalized by our staff).
Residential deliveries require delivery appointment (arranged with YRC Freight). Adult Signature required on all deliveries
YRC is not able to deliver to PO Box, APO, or FPO addresses. Please note we do not ship outside of Continental North America.
Paddles and other Accessories
All paddles and other smaller accessories ship via www.fedex.com. Signature is not required.
FedEx is not able to deliver to PO Box, APO, or FPO addresses. Please note we do not ship outside of Continental North America
Have More Questions?
Please contact us before ordering if you require clarification on free shipping restrictions, residential delivery, or any other aspect of the delivery process
We Use Them. We Know Them.
Live Chat, E-mail Us or Call 1-8888-291-9905.
We're Here to Help.
Before and After Your Purchase.
---
Customer Reviews
Write a Review
Ask a Question
10/07/2019
Christine J.
United States
Great End of Summer
Love our new boards! Purchased toward the end of summer, took a much needed Friday off and went out on the lake...The boards worked great, very easy to handle! Quick inflate. Really happy with the quality of both inflatable boards, so light to handle and so much fun to use! Thank you!
08/05/2019
Peter C.
United States
Great Board, Great Company, Happy Paddler
Thanks to Glenn for getting us the right color after my goof up. My son Tucker is really enjoying his new Paddleboard, which he is getting very good at paddling, even in full Wakeboard Boat waves! He's proud and so are we. Can't thank you enough for all your help.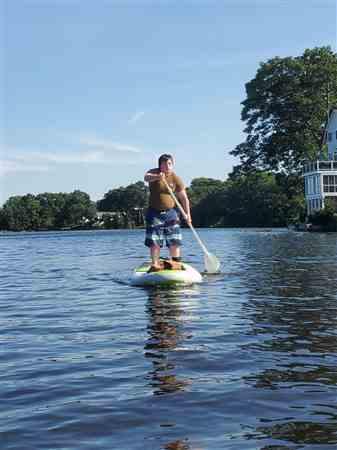 08/03/2019
Kimberly T.
United States
Inflatable Paddle Board
Excellent! I am a 1st time SUPB buyer and this one is perfect! Easy to inflate and great quality!!
07/12/2019
Anonymous
United States
1st time user
I have only used it one weekend but love it. Glenn was very helpful with the purchase of the board. I would recommend the inflatable board.
07/09/2019
Anonymous
United States
Love my paddleboard
Very stable and light paddle board